About Hojdavak Baby
... and a baby is asleep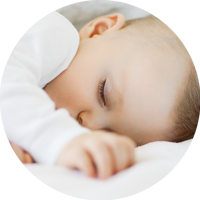 IS YOUR BABY OFTEN TIRED AND CRYING?
DO YOU SLEEP YOUR BABY IN YOUR HANDS AND THEN HURT YOU?
ARE YOU TIRED BECAUSE OF FREQUENT FEEDING OF YOUR BABY?
It could be much better with our Hojdavak Baby Hammock. Our hammock soon calms your baby down and provides him/her with much needed good quality sleep. The spring provides rhythmical up-and-down rocking - the same rocking your baby used to experience with his/her mother walking during her pregnancy; it makes him/her feel safe. This is why babies like all kinds of rocking.
Your baby will lie in the hammock with slightly curved back and legs bent to the body. Most physiotherapists recommend carrying babies in exactly this posture, as it helps correct spinal development and reduces colic. Not only will your baby relax thanks to the hammock: so will his/her mother who thus will have more time for herself and for the rest of her family.
PRODUCT VARIANTS
1/ Standard size – the usable length is about 90 cm
2/ Standard size + 2 bio-cotton covers at a discount
3/ XL size – the usable length of the textile hammock is about 120 cm; the hammock contains a pocket for a blanket
4/ XL size + 2 bio-cotton covers at a discount
All pieces are packed in a practical zip-closure bag. The bag can be used as a useful travel accessory – to transport the hammock or anything else you need for your baby; thanks to the zip fastener, nothing will be lost!
WHERE TO HANG YOUR HAMMOCK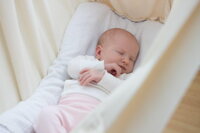 Finding the right place for your baby hammock is essential to its successful use! Install it to the room where you spend most of your time during the day, so as to be able to see your baby at all times. It should be a place where you can comfortably sit and rock your baby. This will give you the possibility to pay attention to your other children, to read or to work on your notebook while rocking the baby. For night-time use, the best solution is to install a second hanging place next to your bed.
HOW TO HANG YOUR HAMMOCK
We offer:
Ceiling Mounting Kit for monolithic concrete
Doorway Mounting Kit
Stand-Alone Frame - grey
More you can find in E-shop: here
For the safe installation of the anchor technique in the ceiling, we recommend consulting with experts from the FISCHER company, whose products are of high quality and certified. Expert Consultants will gladly advise you on a specific solution that you can then buy from their distributors or hobby marketers. Very much depends on the material in the ceiling (concrete, brick, wood, plasterboard, ....) and its properties such as friability or porosity. Almost everything has a solution :-)
HAMMOCK ASSEMBLY
All information is in Instructions for use for donwload: here
DIMENSION IN UNACTIVE STATE
IMPORTANT

SAFETY NOTICE

• Read the instructions for use carefully and use the product accordingly – Any changes or adjustments to the producs negatively impacting its safety and health features are forbidden. Do not install the hammock near any fire or other heat source.

• Do not leave your child unattended – As soon as your child is able to sit or move around in the Hojdavak hammock unaided, the hammock should only be used when an adult is present. The manufacturer is not responsible or liable for any accidents. The hammock is not intended for playing.

• Do not exceed the 15 kg maximum weight – Risk of spring deformation or rupture.

• Check the safety cable on a regular basis – The cable must pass through the spring, the snap hook, and the chain link. Adjust its length so as to allow for free movement of the spring, and to keep the hammock above ground even in the event of spring failure.

• Check the condition of all cables regularly – They must be in perfect condition, with no mechanical wear or tear. If you find even the slightest damage, replace the cable immediately!

• Check the soundness of the suspension system regularly – Ceiling screw, doorway bar, stand-alone frame. Install your hammock only in locations that can safely bear the load. Pay attention to plasterboard ceilings or other cladding. In such cases, always consult a specialist before hanging the hammock there. Test the soundness of any screws and supports by using your own body weight.

• Packaging – After unpacking the product, all plastic bags used for packaging must be kept out of reach of children aged 3 or less.

 
E-SHOP