Strict safety rules applied to the use of the spring! Read carefully!
PURPOSE OF USE
soft galvanized spring with certificate made of high-quality spring wire for rocking to sleep, daytime rest and sleep
of babies in Hojdavak Baby (baby hammock)
not included in Hojdavak Baby package
active from 3 kg
max. load 15 kg
INSTRUCTION FOR USE: HERE
CONTENT OF THE PACK
2 pc of snap hooks
Spring from quality spring wire - construction length 290 mm, diameter 48 mm
Safety rope:

A load capacity of the rope is 100 kg.
Attached to the spring (with fixing tape) and tied with the knot.

The rope secures the suspension cradle when the spring breaks

and sets a limit against spring elongation.

 The double knot is very strong and at the same time it is easy to loosen and extend the rope.

Never untie the knots! 

Extend the length of the safety rope so that in the event of a spring break, the cradle hangs above the ground and at the same time swinging is comfortable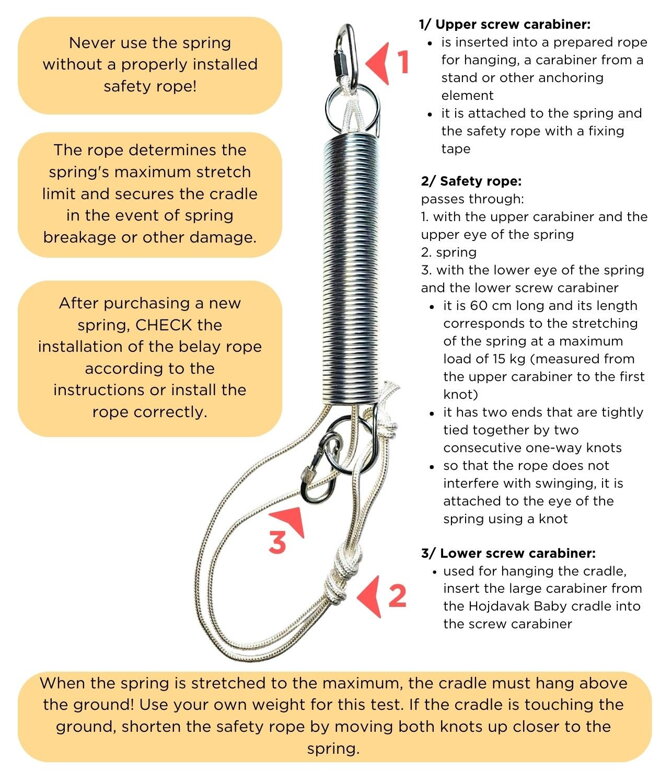 IMPORTANT SAFETY INSTRUCTIONS
DO NOT EXCEED 15 KG.
PERIODICALLY CHECK that the safety rope passes through the spring, upper and lower carabiner and is firmly tied.
PERIODICALLY CHECK that the safety rope is in perfect condition and shows no signs of wear. If even minimal damage is found, replace the rope immediately with a new one!
DO NOT REMOVE or UNLOCK the safety rope that is fixed to the spring with the fixing tape.
DO NOT USE the spring without the safety rope tied and correctly installed!
PROHIBITION of using and storing the spring in a wet or humid environment - risk of corrosion!

Spring Baby silver - read safety rules!