CZECH BABY HAMMOCKS AND HANGING CHAIR FOR KIDS AND ADULTS
HOJDAVAK BABY - hammock for babies
Our Hojdavak hammock soon calms your baby down and provides him/her quality sleep. Your baby will lie in the hammock with slightly curved back and legs bent to the body. Most physiotherapists recommend carrying babies in  this posture, as the spine is thus supported and its proper development helped. Not only your baby will relax thanks to the hammock but also his/her mother who will have more time for herself and for the rest of her family. The Hojdavak baby hammock is suitable for babies right from birth. Hojdavak is used for daily sleep.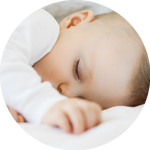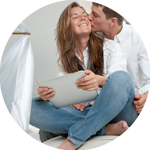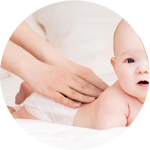 WHY DOES IT WORK SO WELL?
The baby is used (from his mother's womb) to the gentle rhythmic up-and-down bouncing. It used to experience with his/her mother walking; it makes him/her feel safe. This is why babies like rocking in your arms or in prams, as well as bouncing on balls. Thanks to a spring that is included in the basic package, the Hojdavak Baby Hammock uses this vertical movement to speedily rock the baby to calm and to sleep. The hammock sling creates a closed space, which prevents sensory overload of the baby. In the sling, your baby will lie on a polyurethane foam mattress with a layer of buckwheat pods, which has excellent thermal and orthopaedic properties. The mattress will simply adapt to the shape of the baby's body and head. Even though nothing in the world can replace Mom's arms, and physical contact is essential to your baby, the hammock is a valuable helper for your everyday baby care.
HOW AND WHERE TO HANG YOUR HAMMOCK?
Consider your baby hammock suspension system; chose one of the proposed options and order it with the basic package. Finding the right place for your baby hammock is essential to its successful use! Install it in the room where you spend most of your time during the day, so as to be able to see your baby at all times. It should be a place where you can comfortably sit/lie down next to the hammock and rock your baby. While rocking your baby to sleep, you will certainly welcome the possibility to be with your other children, to read or to work on your notebook. For night-time use, the best solution is to install a second hanging place next to your bed.
DO YOU SHARE YOUR PICTURES ON INSTAGRAM?
Do not remember to add hashtag #hojdavak