The Baby Hammock is intended for rocking to sleep and continuous sleep of babies aged 0 to 9 months. Suitable even for newborn babies. Not only will your baby relax thanks to the hammock: so will his/her mother who thus will more time to rest and for other family members. The hammock will make baby care easier also for daddies and other carers.
Maximum bearing capacity 15 kg.
INSTRUCTION FOR USE:

HERE 
Product Variants:
1/ Standard size – the usable length is about 90 cm
2/ XL size – the usable length of the textile hammock is about 120 cm; the hammock contains a pocket for a blanket
The basic package does not contain the spring. You can buy it in the accessories category.
Hojdavak Baby contains the following components:
Textile hammock sling made of 35% cotton and 65% polyester, with a safety certificate for children under 3 years of age
Polyurethane foam mattress (75 x 35 x 2.5 cm) with a buckwheat husk layer with orthopaedic and anti-allergenic properties, prevents sweating
Wooden spacing bar made of hard beech wood
Snap hook
Pull rope
Practical zip-closure bag
Instructions for use
Packed in a 40 x 40 x 15 cm carton box for transport. Weight: 2 kg.
All pieces are packed in a practical zip-closure bag. The bag can be used as a useful travel accessory – to transport the hammock or anything else you need for your baby; thanks to the zip fastener, nothing will be lost!
Wash the textile sling at 40°C. The mattress is not washable due to the inserted buckwheat pods; clean any dirty spots with a wet cloth. For this reason, it should be protected with a cover.
Where to hang your hammock?
Finding the right place for your baby hammock is essential to its successful use! Install it to the room where you spend most of your time during the day, so as to be able to see your baby at all times. It should be a place where you can comfortably sit and rock your baby. This will give you the possibility to pay attention to your other children, to read or to work on your notebook while rocking the baby. For night-time use, the best solution is to install a second hanging place next to your bed.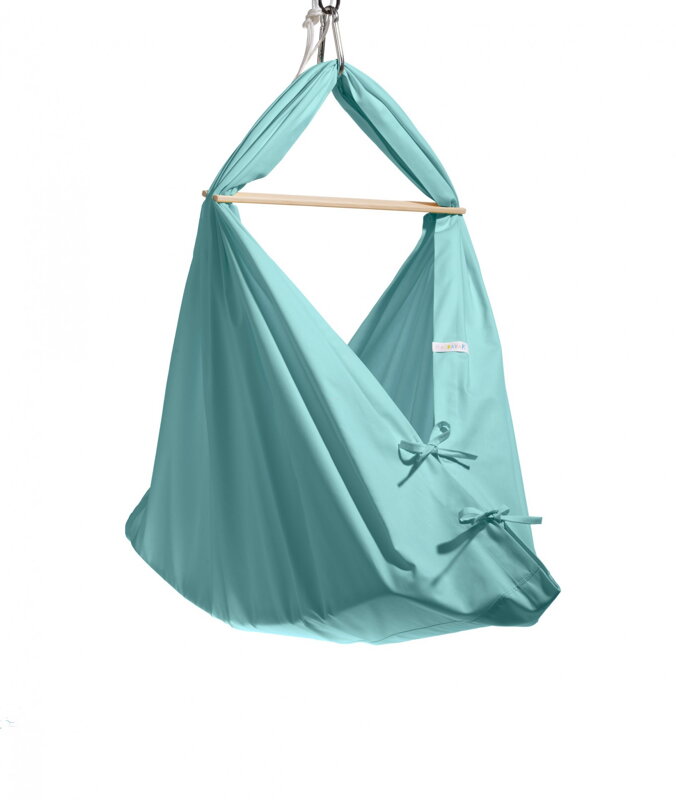 HOJDAVAK BABY mint (w/o spring) with cover spring for free