SPRING, bearing capacity 15 kg - recommended for Hojdavak BABY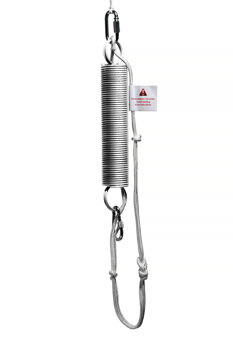 STRICT SAFETY RULES APPLIED TO THE USE OF THE SPRING! READ CAREFULLY!
PURPOSE
Suitable for use with the Hojdavak Baby hanging cradles - recommended to buy
Our certified spring is made out of high-quality steel wire that softly swings the cradle, helping to calm the baby down and making them fall asleep quickly 
Active from

3 kg

Maximum load of

15 kg



CONTENT OF THE PACK
2 pc of snap hooks - in the eye of the spring at the fixing tape, which is inserted into the prepared hinge. Lower screw carabiner, which is inserted into the carabiner with a bag
Spring from quality spring wire - construction length 290 mm, diameter 48 mm 
Safety rope 

A load capacity of 100 kg.
Attached to the spring with fixing tape and tied with the knot.
The rope secures the suspension cradle when the spring breaks and sets a limit against spring elongation. The opposite octagonal knot is very strong and at the same time it is easy to loosen and extend the rope. Never untie the knot! Extend the length of the safety rope so that in the event of a spring break, the cradle hangs above the ground and at the same time swinging is comfortable
IMPORTANT SAFETY INSTRUCTIONS
DO NOT EXCEED 15 KG.
PERIODICALLY CHECK that the safety rope passes through the spring, upper and lower carabiner and is firmly tied.
PERIODICALLY CHECK that the safety rope is in perfect condition and shows no signs of wear. If even minimal damage is found, replace the rope immediately with a new one!
DO NOT REMOVE or UNLOCK the safety rope that is fixed to the spring with the fixing tape.
DO NOT USE the spring

without the safety rope tied and correctly installed!

PROHIBITION of using and storing the spring in a wet or humid environment -

risk of corrosion!
TEST!
Before the first use and after each handling of the safety rope, test the correct installation of the hammock
Use your own weight to load the hammock
Tighten the spring to the maximum length of the safety rope
Make sure the hammock is hanging above the ground
Thank you for following the safety instructions.
INSTRUCTION FOR USE for download: HERE
A KNOT FOR SAFETY ROPE CONNECTION - FIGURE 8 BEND:




E-SHOP
OSOBNÍ DOPORUČENÍ

A galvanized spring for textile baby hammocks (NOT INCLUDED IN THE HOJDAVAK BABY PACKAGE)