Why the Hojdavak Baby Hammock?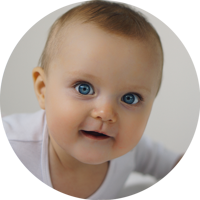 DOES YOUR BABY CRY OFTEN?   
DO YOUR BACK AND ARMS ACHE FROM ROCKING HIM/HER TO SLEEP IN YOUR ARMS?
ARE YOU UP ALL NIGHT TO FEED AND CALM YOUR BABY?
Enjoy peace and calm while taking care of your baby in the first year of his/her life. This is a beautiful time, but also a very trying one. Your baby requires your attention 24 hours a day, 7 days a week. The Hojdavak Baby Hammock offers parents a third pair of "safe arms" that the baby will love and the parents will be very pleased with. Read about our customers' experience in the Customer references section.
Calms down and rocks your baby to sleep in no time
Sleep is longer, the baby relaxes in an active manner
Helps healthy spine development, fixes the spine and prevents inflexions
Reduces colic
High sides prevent sensory overload
For day-time sleep
Certified product
The mattress with a buckwheat pod layer has orthopaedic and non-allergenic properties, eliminates sweating
Textile sling of natural material with safety certificate
For children weighing up to 15 kg
The Baby Hammock is intended for babies right from their birth. Even later, though, you can use it to bounce your toddlers. The only limit is the 15kg weight.
Content of the Basic Package
100% cotton hammock sling
Mattress of polyurethane foam (75 x 35 x 2.5 cm) with a buckwheat pod layer with orthopaedic and non-allergenic properties, prevents sweating; 100% cotton cover
Wooden spacing bar made of hard beech wood 52 cm
Long stainless steel wire spring (may be used both at home and out in your garden)
Snap hook
Screw chain link
Safety rope 1.5 m - white
Pull rope 2 m - white
Instructions for Use - here
Practical zip-closure bag
IMPORTANT! The package does not contain the suspension system. Chose the manner in which you wish to suspend your hammock, and then order the relevant kit with the basic package.
Ceiling-mounting kit (on a screw)
Wall-mounting kit (on a holder)
Doorway-mounting kit (doorway bar)
Anywhere you like thanks to a stand-alone frame
For more details, see our e-shop in the section HOW TO INSTALL.